Technical Details of Our Iron Doors
We continually conduct extensive research within the wrought iron door industry to ensure that our doors are of the highest quality available on the market today.
Although technical, these details are important to compare against other iron door companies to ensure that you are getting the best possible door for your home or business.
At Iron Envy we are proud of the products that we create and want you to have that same confidence when purchasing an iron door from us.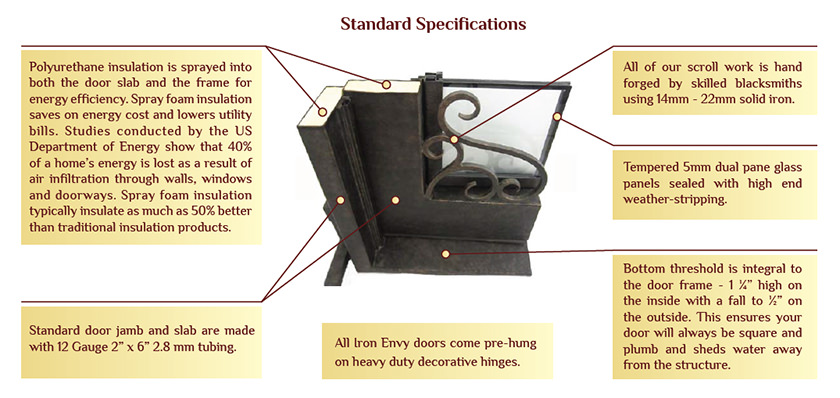 Door Spec Details
Studies conducted by the US Department of Energy show that 40% of a home's energy is lost as a result of air infiltration through walls, windows and doorways.
Spray foam insulation typically insulate as much as 50% better than traditional insulation products. Polyurethane insulation also protects against moisture, which provides the benefit of reducing the chance of harmful mold and mildew. Eliminating mold growth reduces the likelihood of rotting wood in a home and allergic reaction to mold spores.
Doors and windows are sealed with top quality, storm proof, rubber weather stripping for both insulation and weather protection. Standard hardware specifications are 2 1/8" boring, 5 ½" center to center and 2 3/8" backset.
When ordering hardware for an Iron Envy Wrought Iron Door, be sure to request an extra thick door kit which is available with most handle set packages.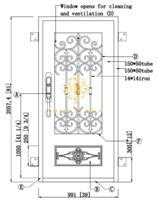 Computer Aided Designs are provided for every door to ensure that your exact requirements are met and you know what you are getting prior to the manufacturing process
Doors are equipped with interior glass panels that open independently from the door for easy cleaning and ventilation. Glass panels are dual paned with clear glass on the interior and your choice of privacy glass on the exterior side. Both interior and exterior glass panels are tempered for safety and 5MM thick with 6MM of airspace between each panel. Low-E Glass is also available for custom orders.
Our doors have the toughest and most attractive finishes on the market. We back that claim with a three year finish warranty on every door.